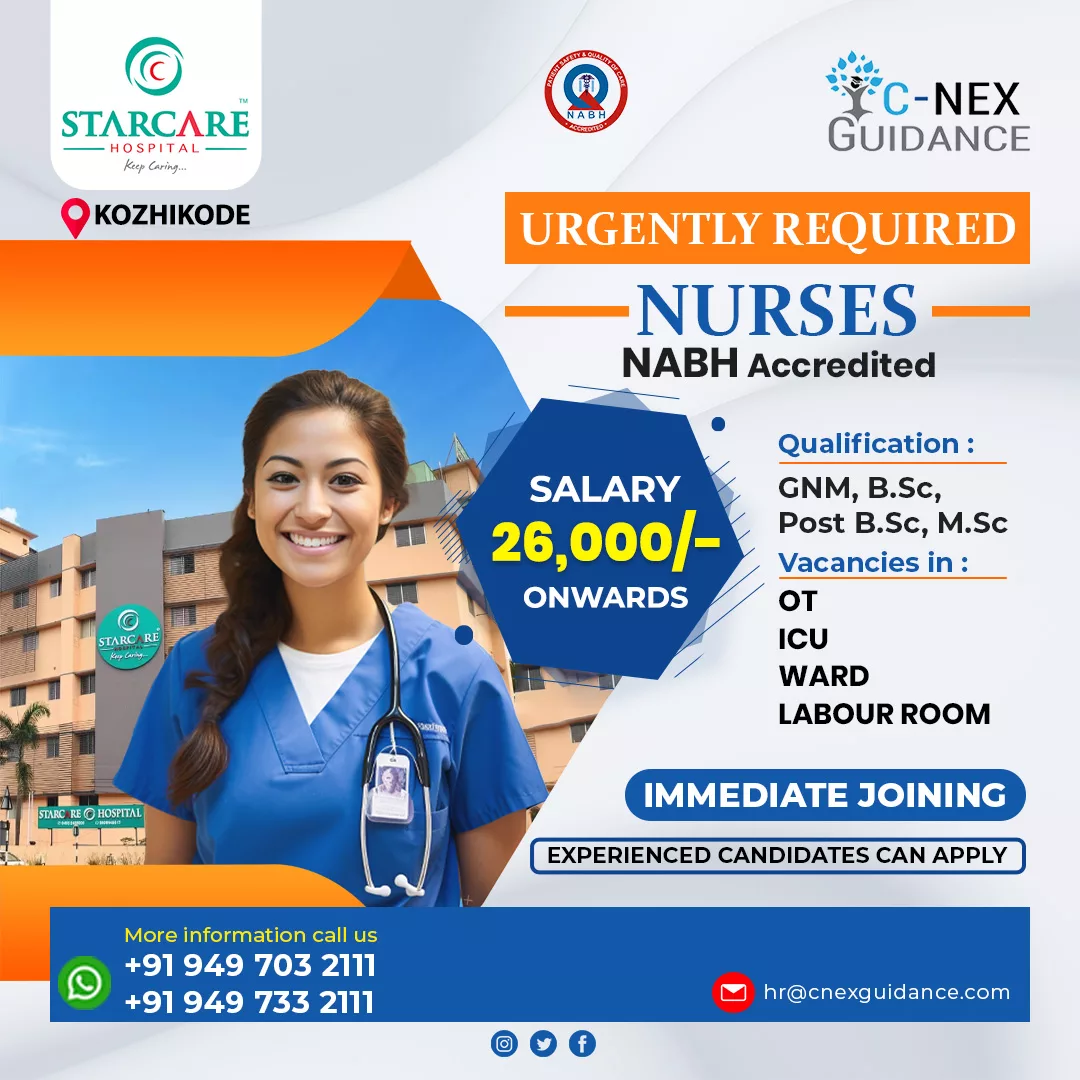 Nursing Recruitment for Starcare Hospital, Kozhikode
Posted by

Date

October 12, 2023

Comments

0 comment
Please fill the details in below form to apply:
Staff Nurse Recruitment for Starcare Hospital Kozhikode by C-NEX Guidance
If you're a compassionate and skilled nurse looking to make a meaningful impact in the healthcare industry, you're in the right place. Starcare Hospital Kozhikode, one of the leading healthcare institutions in the region, is currently seeking dedicated staff nurses to join their team. In this article, we'll explore the exciting opportunities offered by Starcare Hospital and how C-NEX Guidance can help you secure your dream nursing job.
Table of Contents
Introduction
About Starcare Hospital Kozhikode
The Role of a Staff Nurse
Why Choose Starcare Hospital?
C-NEX Guidance: Your Career Partner
How to Apply for Staff Nurse Position
Interview Tips and Tricks
Benefits of Joining Starcare Hospital
Testimonials from Starcare Nurses
Career Growth at Starcare Hospital
Nursing Excellence at Starcare
Frequently Asked Questions (FAQs)
Introduction
The demand for skilled healthcare professionals is ever-increasing, and Starcare Hospital Kozhikode is at the forefront of providing top-notch medical services to the community. To maintain their high standards of care, they are on the lookout for passionate staff nurses to join their team.
About Starcare Hospital Kozhikode
Starcare Hospital Kozhikode, situated in the heart of the city, has been a beacon of hope for patients for several years. The hospital is equipped with state-of-the-art facilities, a highly skilled medical team, and a commitment to providing patient-centric care. It's not just a hospital; it's a community that thrives on compassion and excellence.
The Role of a Staff Nurse
As a staff nurse at Starcare Hospital, you'll play a crucial role in patient care. Your responsibilities will include monitoring patients, administering medications, assisting doctors, and providing emotional support to patients and their families. It's a role that requires dedication, empathy, and clinical expertise.
Why Choose Starcare Hospital?
Exceptional Work Environment: Starcare Hospital fosters a positive and nurturing work environment where every team member is valued and supported.
Advanced Training Opportunities: The hospital offers continuous training and professional development programs to enhance your nursing skills.
Cutting-Edge Technology: You'll have access to the latest medical technology, making your job more efficient and effective.
Competitive Compensation: Starcare Hospital offers competitive salary packages and benefits to its staff nurses.
C-NEX Guidance: Your Career Partner
Getting your dream job at Starcare Hospital is now easier with C-NEX Guidance. C-NEX is a trusted career guidance platform that specializes in healthcare placements. They provide expert guidance, interview preparation, and job placement services to aspiring nurses.
How to Apply for Staff Nurse Position
Visit the Starcare Hospital website.
Navigate to the "Careers" section.
Search for the Staff Nurse position and click "Apply."
Fill out the application form and submit your resume.
C-NEX Guidance will contact you for further assistance.
Interview Tips and Tricks
To ace your interview at Starcare Hospital, here are some tips:
Dress professionally and comfortably.
Be prepared to discuss your nursing experience.
Highlight your passion for patient care.
Ask questions about the hospital and the role.
Practice common interview questions.
Benefits of Joining Starcare Hospital
Health Insurance: Comprehensive health coverage for you and your family.
Flexible Scheduling: Options for flexible work schedules.
Employee Assistance Program: Access to counseling and support services.
Career Advancement: Opportunities for career growth within the organization.
Testimonials from Starcare Nurses
"I've been a part of the Starcare family for five years now, and I couldn't be happier with my choice. The support and growth opportunities here are unmatched." – Sarah, Staff Nurse
Career Growth at Starcare Hospital
Starcare Hospital values talent and is committed to nurturing it. They provide a clear career progression path for staff nurses who aspire to take on leadership roles. With continuous learning and skill development, you can climb the ladder of success in your nursing career.
Nursing Excellence at Starcare
Starcare Hospital takes pride in its nursing excellence. They encourage their nurses to participate in research, attend conferences, and stay updated with the latest medical advancements. This commitment to excellence translates into superior patient care.
Frequently Asked Questions (FAQs)
How do I apply for a staff nurse position at Starcare Hospital?

Please visit the hospital's website and follow the application process outlined there.

What are the prerequisites for applying?

You should have a valid nursing degree and relevant certifications.

Is there room for career advancement at Starcare Hospital?

Absolutely! The hospital encourages and supports career growth for its staff nurses.

What sets Starcare Hospital apart from other healthcare institutions?

Starcare Hospital is known for its commitment to excellence, cutting-edge technology, and a supportive work environment.

How can C-NEX Guidance assist me in my job application?

C-NEX Guidance provides expert guidance and placement services to help you secure your dream nursing job.
Conclusion
If you're ready to embark on a fulfilling nursing career journey with Starcare Hospital Kozhikode, take the first step today. Join a community that values your skills and provides opportunities for growth. Apply now and let your nursing career shine!
Access Now: