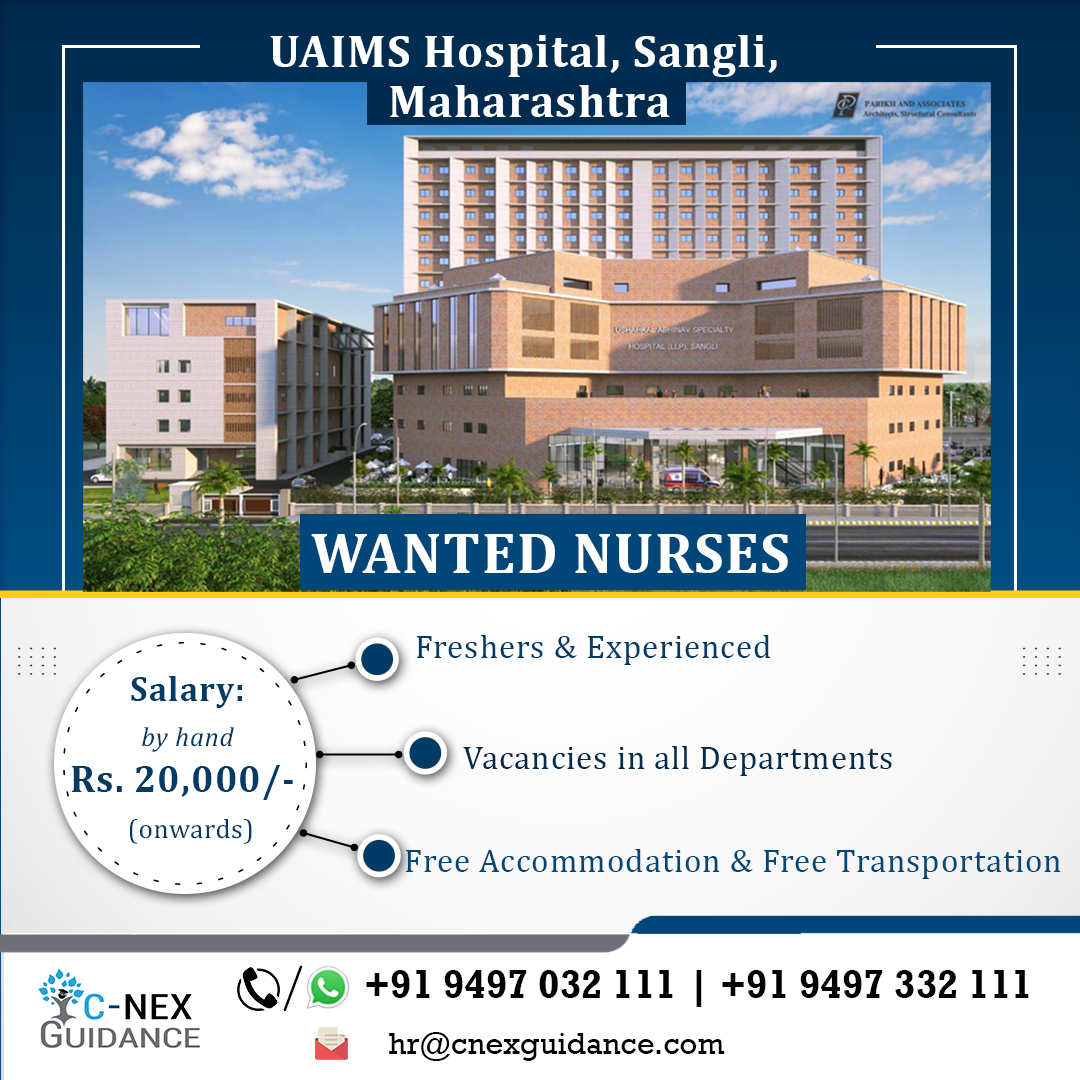 Nursing Recruitment for UAIMS Hospital, Sangli, Maharashtra
Posted by

Date

November 2, 2021

Comments

0 comment
USSHAKAL ABHINAV INSTITUTE OF MEDICAL SCIENCES [UAIMS] a 350+ bedded super speciality hospital in Sangli, South Maharashtra is looking for Freshers/Experienced  M Sc/B Sc/Post B Sc/GNM Nurses to all departments.
Interview through WhatsApp video call

Salary – Rs 20,000/-  [in hand] onwards
Immediate joining
Food and Accommodation provided.
Mobile/WhatsApp : 9497032111 / 9497332111

Please fill your details in the below form to apply for this job opening.
Ushahkal Abhinav Speciality Hospital is a new super speciality hospital in Sangli, South Maharashtra.Sangli is a quiet and peaceful city of about 7 lakhs population with a huge drain of patients from nearby 5 districts.The nearest Airport Kolhapur is 45 kms / Belgavi 120 kms / Hubali 200 kms.Flights available from Kochi to Kolhapur via Hyderabad/ Benguluru. Direct flight to Hubali.It is a 350 bedded state of the art hospital with a total built up area of 4 lakh square feet.All specialities and superspecialities will be available including CT / MR / CATHLAB / DIALYSIS UNIT/ PHYSIO UNIT/ KITCHEN/ BLOOD BANK/ BONE MARROW TRANSPLANT unit/ 100 CRITICAL CARE BEDS IN TOTAL WITH state of the art equipment/ 15 advanced operating rooms / PICU-NICU- 33000 sq feet Mother-Child block.UAIMS aim to start post graduate medical teaching after a certain requisite duration.Gradualy It will be NABH accredited and later on JCI too!