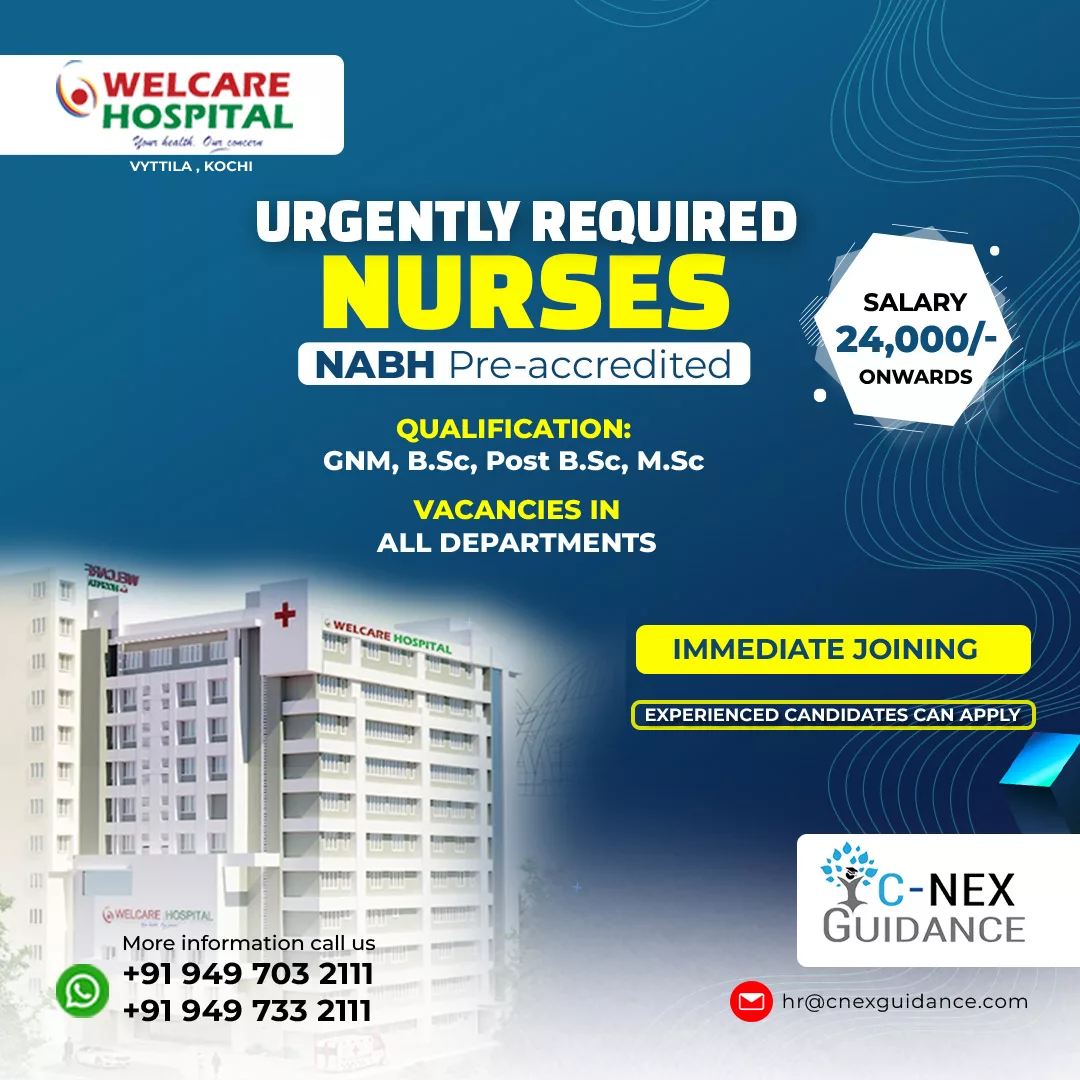 Nursing Recruitment for Welcare Hospital, Cochin
Posted by

Date

September 22, 2023

Comments

0 comment
Interview conducted by C-NEX Guidance Private Limited for Nursing Job Vacancies in Welcare Hospital Cochin
In the world of healthcare, the demand for skilled and compassionate nurses is ever on the rise. Hospitals and healthcare facilities constantly seek talented individuals to join their teams and provide the best possible care to patients. Welcare Hospital Cochin is no exception. In their quest to find the best nursing talent, they recently conducted interviews in collaboration with C-NEX Guidance Nursing Consultancy. In this article, we will delve into the details of this interview process and shed light on the opportunities it offers to aspiring nurses. Please fill in your details in the below form to attend the interview on 28th September 2023.
Introduction to Welcare Hospital Cochin
Before we dive into the interview process, let's get acquainted with Welcare Hospital Cochin. Situated in the picturesque city of Kochi in Kerala, India, Welcare Hospital is a leading healthcare institution known for its commitment to excellence in patient care. With state-of-the-art facilities and a team of dedicated medical professionals, Welcare Hospital has earned a reputation for providing top-notch healthcare services.
The Role of Nurses at Welcare Hospital
Nurses are the backbone of any healthcare institution, and Welcare Hospital recognizes their significance. Nurses at Welcare Hospital play a pivotal role in patient care, ensuring that each individual receives the attention and treatment they need. From administering medications to monitoring vital signs and providing emotional support, nurses are at the forefront of patient care.
Collaborating with C-NEX Guidance Nursing Consultancy
To find the most suitable candidates for their nursing vacancies, Welcare Hospital partnered with C-NEX Guidance Nursing Consultancy. This collaboration brought together the expertise of the hospital's HR team and the specialized knowledge of C-NEX Guidance in nursing recruitment.
Preparing for the Interview
Candidates applying for nursing positions at Welcare Hospital Cochin are required to go through a rigorous selection process. This process began with the submission of applications and resumes. Once the initial screening was completed, eligible candidates were invited for interviews.
The Interview Panel
The interview panel consisted of experienced nursing professionals from Welcare Hospital and representatives from C-NEX Guidance Nursing Consultancy. This diverse panel allowed for a comprehensive evaluation of candidates' skills, qualifications, and potential to thrive in the hospital's dynamic environment.
Assessing Skills and Competencies
During the interviews, candidates are assessed on various aspects, including:
Clinical Skills
Candidates were tested on their clinical knowledge and their ability to handle various medical procedures.
Communication Skills
Effective communication is crucial in nursing, and candidates' ability to convey information clearly and empathetically was evaluated.
Critical Thinking
Nursing often requires quick thinking and problem-solving. Candidates were presented with hypothetical scenarios to assess their critical thinking abilities.
Compassion and Empathy
Nursing is not just about medical procedures; it's also about providing emotional support. The panel evaluated candidates' capacity for compassion and empathy.
The Final Selection
After rigorous interviews and assessments, a select group of candidates will be chosen to join the Welcare Hospital team. These individuals should not only have the necessary skills and qualifications but also a deep commitment to patient care.
Opportunities for Nursing Professionals
Working at Welcare Hospital Cochin offers nursing professionals a host of opportunities. Some of the benefits of joining the Welcare family include:
Career Growth
Welcare Hospital is dedicated to the professional development of its staff. Nurses can expect opportunities for career advancement and skill enhancement.
State-of-the-Art Facilities
Nurses at Welcare Hospital have access to cutting-edge medical equipment and facilities, enabling them to provide the best care possible.
Collaborative Environment
The hospital fosters a collaborative and supportive work environment, where nurses can learn from experienced colleagues.
Competitive Compensation
Welcare Hospital offers competitive salaries and benefits to its nursing staff, recognizing their invaluable contribution to patient care.
Conclusion
In conclusion, the recent interview to be conducted by C-NEX Guidance Nursing Consultancy for nursing job vacancies at Welcare Hospital Cochin underscores the hospital's commitment to recruiting top-tier nursing talent. Aspiring nurses can look forward to a fulfilling career with opportunities for growth and professional development. If you are passionate about healthcare and nursing, this could be your chance to make a meaningful difference in the lives of patients.
FAQs
How can I apply for nursing positions at Welcare Hospital Cochin?
To apply for nursing positions at Welcare Hospital Cochin, please provide your details in the application form listed in this page.
What qualifications are required to be eligible for these nursing vacancies?
The specific qualifications may vary depending on the position. Generally, candidates are expected to have a nursing degree or diploma and relevant     certifications.
What sets Welcare Hospital Cochin apart from other healthcare institutions?
Welcare Hospital Cochin stands out for its commitment to excellence, state-of-the-art facilities, and a collaborative work environment that promotes growth and development.
Are there opportunities for career advancement for nurses at Welcare Hospital?
Yes, Welcare Hospital Cochin offers opportunities for career growth and advancement to its nursing staff, encouraging continuous learning and development.